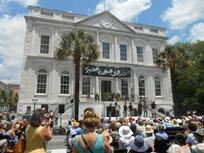 The 2016 MCANA meeting will be held at the Spoleto Festival USA in historic Charleston, SC from May 31 to June 3.
We will hear the new David Herskovits production of Porgy and Bess featuring Lester Lynch and Alyson Cambridge at the renovated Gailliard Auditorium; the U.S. premiere of "The Little Match Girl" (1990) by Helmut Lachenmann, with Heather Buck and Yuko Kakuta, and the U.S. premiere of Double Coquette, an infrequently encountered comic opera by Baroque composer Antoine Dauvergne (with revisions by Gérard Pesson) by the early music specialists Ensemble Amarillis. In addition to the usual chamber concerts at 11 a.m. and 1 p.m.–Osvaldo Golijov is composer-in-residence this year–there will be walking tours centered around the Charleston roots of "Porgy and Bess," led by visual designer and artist Jonathan Green, who grew up among South Carolina's Gullah community.
For more info on the Spoleto season, visit the following:
http://spoletousa.org/current-season/shows/
Day to Day breakdown of events: https://spoletousa.org/current-season/schedule/
Details on lodging options (dorm rooms; hotel group rate) and panels will be updated on this page as they become available.
SPECIAL ACCOMODATION OPTIONS
Special Press Rates will be available to MCANA members at several hotels convenient to the Spoleto USA Festival sites. Rates vary, depending on the hotel and dates, from $185 to $429 per night.
A limited number of dorm rooms are also available to MCANA members at Berry Hall – College of Charleston. The dorm rooms rates are as follows:
$29 (double occupancy) plus tax per night
$33 (single occupancy) plus tax per night
The cost of linens is $25 per package. This is a one-time fee
Access codes will be provided upon receipt of registration form and payment. 
DEADLINES
Meeting registration deadline is April 1st. After that date, a late payment will apply.
The press seat request deadline is April 1st. Press seats can not be guaranteed for registrations received after that date.
The various hotels have cut-off dates for access to the special room rates and dorm room availability.  The cut-off dates vary, but most end by mid April.
MCANA members registered to attend:
Anthony, Michael
Bash, James
Bloom, Elizabeth
Brodie, Susan
Cooper, Jackson
Elliott, Susan
Fleming, John
Gelfand, Janelle
Ginell, Richard
Greenberg, Mike
Hathaway, Daniel
Huebner, Michael
Hyde, Paul
Jepson, Barbara
Johnson, Lawrence B.
Kandell, Leslie
Kaptainis, Arthur
Keller, Johanna
Kennelly, Laura
Koob, Lindsay
Lambert, John
Lewis, Zachary
Littler, William
Loney, Glenn
Loomis, George
Love, Earl
Malitz, Nancy
Markow, Robert
Paulk, James
Robinson, Paul
Sullivan, Jack
Tannenbaum, Perry
Van Vlasselaer, Jean Jacques
Walker, William Thomas
Wein, Gail
Wright, David