"The Pandemic and Beyond: How Detroit Music Organizations Adapted and How Their Leaders Foresee the Post-Covid Future" – Panelists Wayne Brown, president and CEO, MOT; Erik Rönmark, VP and general manager, DSO; Andre Dowell chief of artist engagement, Sphinx Organization; Steve Wogaman, president, Chamber Music Society of Detroit. Moderator: John Fleming
Keynote panel: 2021 Best New Opera recipient and other adventurous productions by The Industry and MOT as models for new opera; MOT and The Industry artistic director Yuval Sharon with honorees for "Sweet Land." Awards presented. Moderators / Moderator / Presenter: Heidi Waleson
Members Registered to Attend
MEMBERS ATTENDING IN PERSON
Angela Allen
James Bash
Susan Brodie
John Fleming
Paul Hyde
Lawrence B. Johnson
Loomis, George
Nancy Malitz
Jennifer Melick
Donald Rosenberg
Ken Smith
Heidi Waleson
David Wright
MEMBERS ATTENDING VIRTUALLY
Wynne Delacoma
Susan Elliott
Janelle Gelfand
Barbara Jepson
John Lambert
Chuck Lavazzi
Esteban Meneses
James Paulk
Keith Powers
Serinus, Jason Victor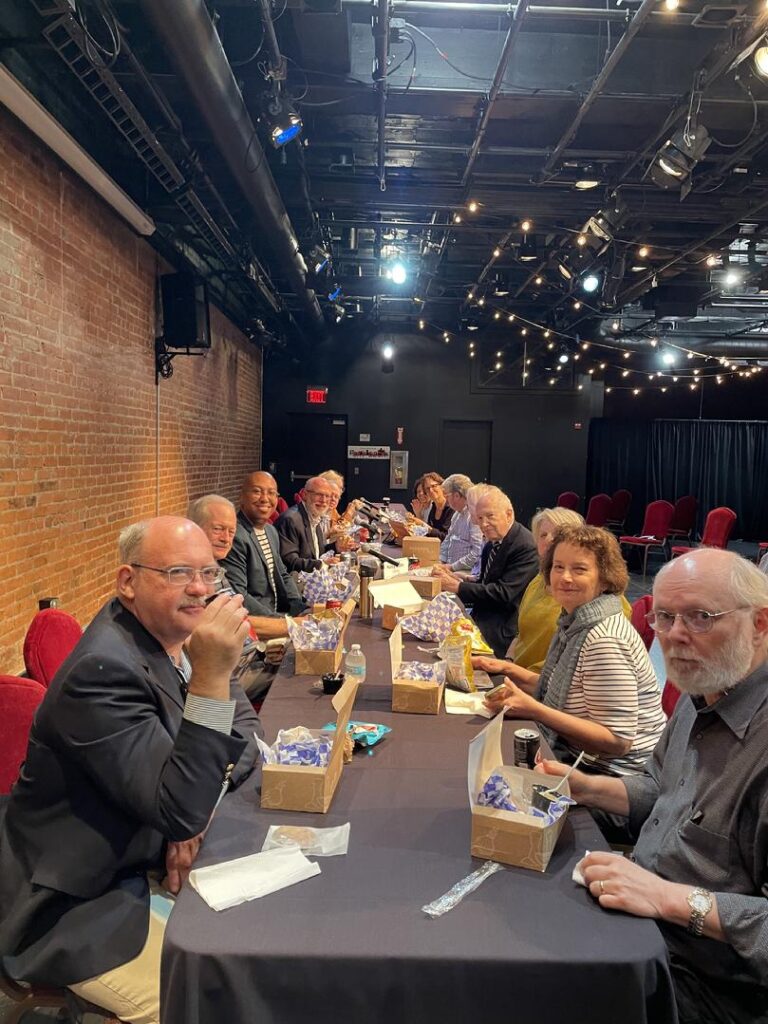 The Music Critics Association of North America annual meeting will be held Sept. 10-12 in collaboration with Michigan Opera Theatre in Detroit.
To be sure, this will be a different kind of annual meeting as effects of Covid continue to be felt. The 2020 meeting in San Francisco was canceled because of the pandemic, and the uncertainty around live, in-person performance this year has made scheduling a challenge. Members will be offered the option of participating either in person or remotely, and we have kept registration fees low.
The centerpiece of the meeting is MOT's new production of Blue, the work by Jeanine Tesori and Tazewell Thompson that won the 2020 MCANA Award for Best New Opera. It is now being staged for the first time since its premiere. To accommodate pandemic protocol, performances will be in an unconventional setting for opera, the Aretha Franklin Amphitheatre, an open-sided, covered venue on the Detroit River.
Much of our meeting will take place at the Detroit Opera House, where MOT is based,but there will also be forays to the home of the Detroit Symphony Orchestra, a famous jazz club, and the Detroit Historical Society.
We will abide by MOT's pandemic protocol at the opera house and for Blue performances, and follow good public health practice at other locations. Here's a link to the company's Covid safety plan: https://michiganopera.org/covid-19-plan/
A live streamed session on Sept. 12 will cover the MCANA business meeting (including board election results) and a keynote panel featuring MOT's new artistic director, Yuval Sharon, along with creators of the 2021 Best New Opera Award winner. We are keeping the identity of the award's recipient confidential until its announcement, which will be made in late August. I think you will find learning about this pathbreaking opera – and meeting its authors – an exciting experience.
A registration form and instructions are included as part of the schedule brochure, which can be found on this site at the Annual Meeting 2021 page, located in the menu to the left. MCANA has rooms on hold at the Hilton Garden Inn, which is within walking distance of the opera house. Our group rate is $259 per night. Note: This rate expires on Aug. 17, so it's important to book promptly.
Looking forward to seeing you in Detroit (and online)!