2018 MCANA Opera Award
"The Wake World"
by David Hertzberg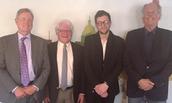 MCANA ANNUAL MEETING SCHEDULE
Thursday, April 12
Albany residency – Dogs of Desire & Theo Bleckmann
7:30 p.m. –Blind Whino ( 700 Delaware Avenue SW)
Friday, April 13
MCANA Panel – Friday morning board members Rick Ginell and Arthur Kaptainis will co-moderate a discussion with participating orchestra music directors, administrators, musicians and others on how their organizations are finding ways to be more relevant to their communities, among other topics. Time TBA. Washington Performing Arts, 1400 K Street NW, 5th Floor
MCANA Panel – Friday afternoon, Anne Midgette, chief classical music critic of the Washington Post, will moderate a discussion on Washington's cultural scene with area arts leaders, including Deborah Rutter, CEO of the Kennedy Center, and Jenny Bilfield, CEO of Washington Performing Arts. Time TBA. Washington Performing Arts, 1400 K Street NW, 5th Floor
5:00 – 7:00 pm – MCANA reception and presentation of the second annual Best New Opera Award. The River Inn – https://www.theriverinn.com/ – (a short walk from the Kennedy Center)
INDIANAPOLIS SYMPHONY – Krzysztof Urbański, conductor
Alisa Weilerstein, cello; Indianapolis Symphonic Choir; Indianapolis Children's Choir
8:00 p.m. – The Kennedy Center
Saturday, April 14
MCANA Panel – Saturday morning, MCANA vice president Nancy Malitz will moderate a panel on digital journalism and other tradecraft. Time TBA. "We Work", 810 7th Street NE
MCANA Event – Saturday afternoon the MCANA annual business meeting will be conducted. Time TBA. "We Work", 810 7th Street NE
Pre-concert Reception at the Kennedy Center before Saturday's concert by the National Symphony Orchestra, courtesy of our hosts, SHIFT co-sponsors the Kennedy Center and Washington Performing Arts.
NATIONAL SYMPHONY – Gianandrea Noseda, conductor
All-Russian program dedicated to the memory of Dmitri Hvorostovsky
8:00 p.m. – The Kennedy Center
MCANA MEMBERS REGISTERED TO ATTEND:
Allen, Angela
Bash, James
Brodie, Susan
Chin, Simon
Clark, Sedgwick
Downey, Charles T.
Elliott, Susan
Fleming, John
French, Gilbert
Ginell, Richard
Greenberg, Michael
Johnson, Lawrence B.
Kandell, Leslie
Kaptainis, Arthur
Lambert, John
Littler, William
Love, Earl Arthur
Malitz, Nancy
Midgette, Anne
Miller, Sarah Bryan
Paulk, James L.
Perdian, Rick
Rockwell, John *
Van Vlasselaer, Jean Jacques
The Music Critics Association of North America board recently voted to hold our 2018 annual meeting in connection with the second annual SHIFT: A Festival of American Orchestras at the John F. Kennedy Center for the Performing Arts in Washington, D.C.
The convention's official dates will be April 12-14, but there are events on either side of those dates that members may want to attend and for which tickets will be available. Details of the annual meeting are to be worked out and will follow. Registration forms have been sent to all current MCANA members. A registration form can also be found at the bottom of this announcement. Registration deadline is March 10th.
SHIFT's four participating orchestras – the Fort Worth Symphony Orchestra, Albany Symphony, Indianapolis Symphony, and National Symphony Orchestra – will, as a press release puts it, "spotlight repertoire influenced and inspired by literature, history, geography, varied cultures, and nature, and will encompass collaborations with vocalists and choirs, dancers, star solo instrumentalist, and six living composers." For a rough draft of the festival lineup, see the attachment. (This was prepared by SHIFT before the death of baritone Dmitry Hvorostovsky, who was scheduled to perform with the NSO.) Note that the lineup includes a number of time slots for "residency" events. The festival explores the various ways orchestras are re-imagining their roles in their communities, and these events, which take place all over the city, allow each orchestra to show off their own outreach. Most will likely consist of innovative concerts, workshops, and panel discussions, and obviously they'll be available for members who want to attend. Program details will be announced soon.
SHIFT is eager to have us at the festival, and Washington is a fine place for a meeting, with good public transit, plenty of hotel choices, and the cherry blossoms out in April.